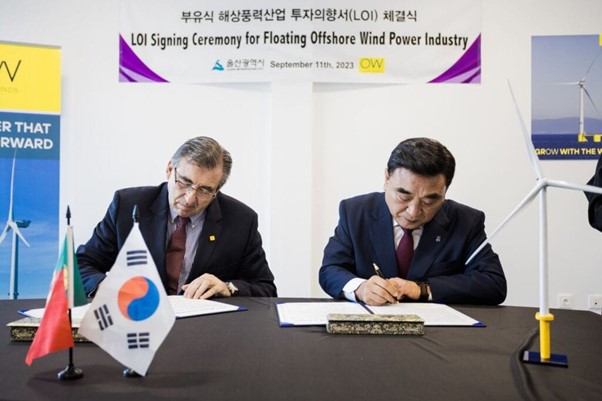 Ulsan Metropolitan City and Ocean Winds strengthen cooperation for 1.2 GW Floating Offshore Wind Project in South Korea
The cooperative relationship between Ulsan Metropolitan City and Ocean Winds aims at strengthening and developing co-operation for the development of the 1,2 GW KF Wind floating offshore wind project that Ocean Winds is developing off the coast of Ulsan.
A Letter of Intent (LOI) was signed between Mayor of Ulsan Metropolitan City Kim Doo-gyeom and Ocean Winds CEO Bautista Rodriguez, in Viana do Castelo, Portugal, during a visit to Ocean Winds' WindFloat Atlantic wind farm, in presence of Ulsan Chamber of Commerce and Industry Chairman Lee Yun-cheol and KF Wind Project Director Park, Jang-ho.
Ocean Winds (OW), international company dedicated to offshore wind energy and created as a 50-50 joint venture in 2020 by EDP Renewables and ENGIE, and Ulsan Metropolitan City, have joined forces through a Letter of Intent (LOI) that underscores their joint commitment to driving forward the 1.2 GW floating offshore wind energy project: KF Wind, a joint venture between Ocean Winds (66,7%) and Mainstream Renewable Power (33,3%). The signing ceremony was signed in Viana do Castelo, where the pioneer floating WindFloat Atlantic project is located, and chaired by the Mayor of Ulsan Metropolitan City Kim Doo-gyeom and the CEO of Ocean Winds, Bautista Rodriguez Sánchez – who signed the collaboration agreement. The Mayor of Viana do Castelo, Luis Nobre, also attended and shared the success story that the WindFloat Atlantic project has brought to the local community over the past three years of operation.
Through this agreement, Ulsan Metropolitan City will provide its cooperation and support to OW in development, operation, and maintenance of the KF Wind project and OW reinforces its commitment to construct the project by 2030 and to provide cooperation for technology transfer, manpower training and job creation in the Ulsan area. This cooperation actively contributes to Ulsan Metropolitan City strategy to be designated Korea's first Specialized Zone for Regional Energy Decentralization.
Mayor of Ulsan Metropolitan City, Kim Doo-gyeom said, "Through this visit to WindFloat Atlantic, I was able to see the world's best practices in floating offshore wind power. As distributed energy becomes more popular, Ulsan will play a leading role in revitalizing renewable energy industries such as wind power, hydrogen, and solar power,"
"I am thrilled and grateful for the Ulsan Metropolitan City's Mayor support and trust towards our KF Wind project. Ocean Winds is very proud to contribute to Ulsan's vision of clean energy production and focus in strengthening the local economy." said Bautista Rodriguez, Chief Executive Officer of Ocean Winds. The signing of the LOI formally took place during a visit to WindFloat Atlantic, the world's first semi-submersible floating offshore wind farm, for which Ocean Winds just celebrated three years of operation. The semisubmersible technology developed for WindFloat Atlantic and designed by Principle Power will also be used in KF Wind project, on its way of being the first commercial scale floating project in the world.