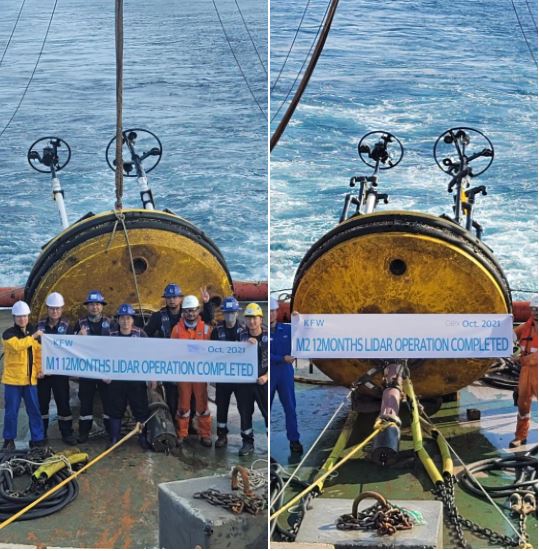 October 2021 – We are delighted to announce that both Korea Floating Wind and East Blue Power completed the initial measurement campaign mandatory to apply for the Electrical Business License. Two floating LiDARs of Korea Floating Wind and one floating LiDAR from East blue Power were successfully and safely demobilized earlier this month after a full year of service. However, our KFW-A LiDAR has been swapped with a brand new Fugro FLS as the measurement campaign continues for the next 12 months at least.
Floating lidar systems or FLS, is a measuring device used to collect valuable data from the sea and wind such as atmosphere quality, wind speed, sea current force at various altitudes. The data is then analyzed and used to produce yield assessment and micro-siting of the wind farm. As a result of measuring wind conditions off the coast of Ulsan for the past twelve months, KFWind sites with an average of 8.89 m/s, are excellent for Korea and give confidence for the project to move forward.
Whilst Ocean Winds alias OW and Aker Offshore Wind are the sponsors of KFWind project consisting of two sites KFW-A and B; East Blue Power (EBP) project, located south of the KFWind is being developed by Korea Floating Wind and Kumyang Electric Co, one of the respected and renowned electrical engineering companies in Ulsan. EBP project also installed and completed its measurement campaign and is preparing its Electrical Business License.