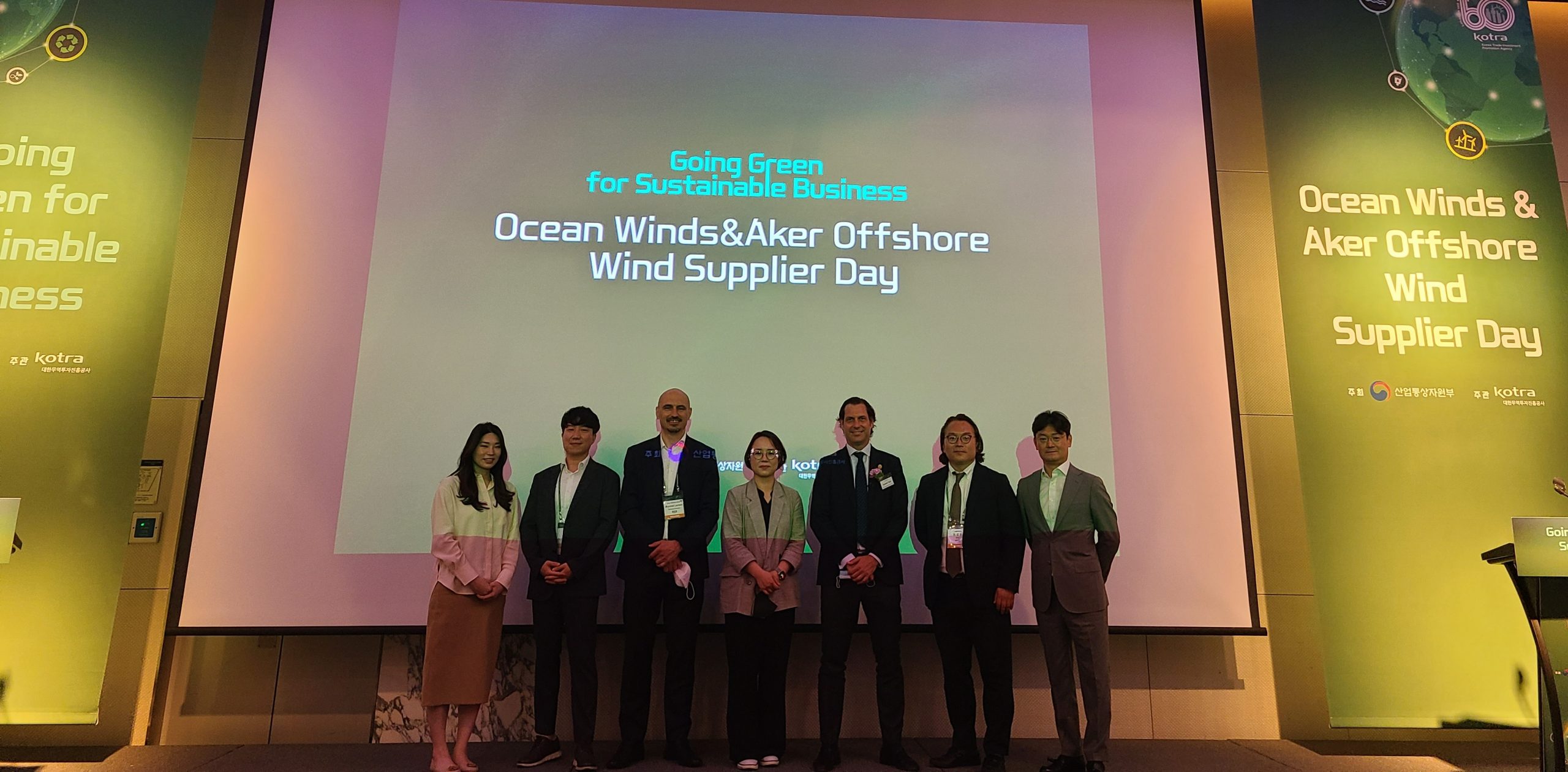 Korea Floating Wind-KOTRA to hold ' OW & AOW Supplier Day' with offshore wind power partners
Korea Floating Wind, which is promoting a 1.2 GW floating offshore wind farm in the distant sea more than 70 km off the coast of Ulsan, has started to secure a cooperative channel to build a supply chain in related fields.
Korea Floating Wind held an " Ocean Winds & Aker Offshore Wind Supplier Day" event at InterContinental Seoul COEX on May 24th to communicate with its partners as part of fostering the local offshore wind industry in Korea. About 100 officials from domestic offshore wind power companies attended the seminar, which was held in conjunction with KOTRA's Global Project Plaza (GPP) event.
Korea Floating Wind is a joint venture established by Ocean Wind, which has a 10GW offshore wind project pipeline in the global market, and Aker Offshore Wind, a specialized in offshore engineering company.
Currently, in Ulsan region, ▲ Korea Floating Offshore Wind Power (870 MW) and ▲ East Blue Power (450 MW) have received the Electric Business License (EBL) and are conducting follow-up procedures such as environmental impact assessment.
Ocean Winds, the largest shareholder of Korea Floating Wind, is a joint venture established by ENGIE, France's largest wind operator, and EDP Renewables the world's fourth-largest wind power developer and a subsidiary of EDP's renewable energy sector, to expand its offshore wind business. It is currently working on a project to build a 1.2 GW offshore wind farm on the Korean Peninsula about 70 kilometers from the coast of Incheon.
In June last year, KOTRA announced that Ocean Winds has a plan to invest $100 million in Korea's floating offshore wind power development project.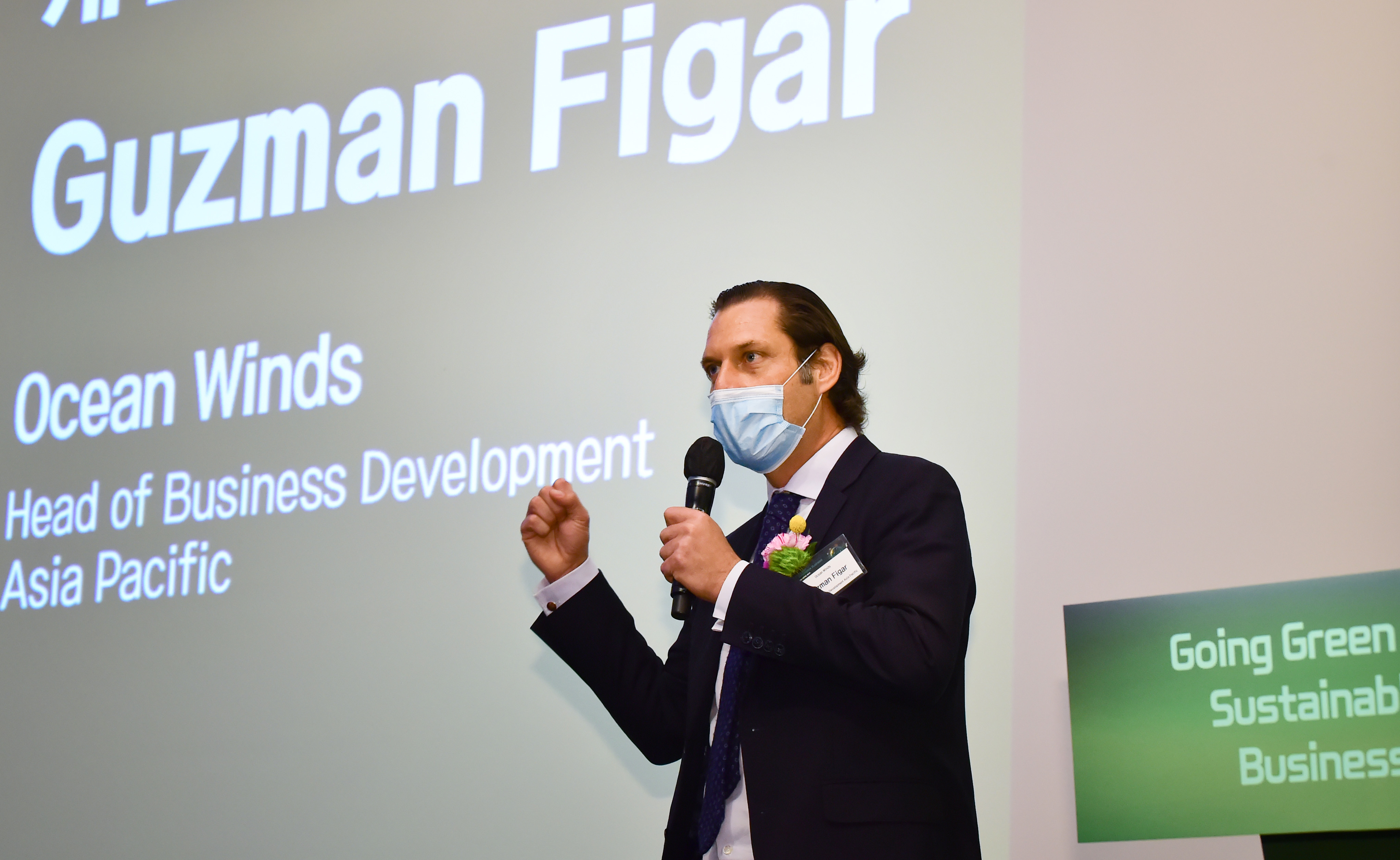 Require to establish a stable regional supply chain
Guzman Figar, Project Director of Korea Floating Wind, emphasized that the establishment of an offshore wind power supply chain centered on local companies is the key for revitalizing the local economy and creating jobs.
"Establishing a stable regional supply chain, such as supplying offshore wind power equipment and manufacturing floating bodies is the key for the success of this business. We will take the lead in co-prosperity development with local communities such as revitalizing local industries and creating jobs by expanding partnerships in linked industries in the future" he said.
Choi Sung-woo, head of business development of Ocean Winds Korea, introduced the HANBANDO project, which is a bottom-fixed offshore wind power and being promoted in Incheon. The project is expected to expand partnerships with local partners with large-scale development.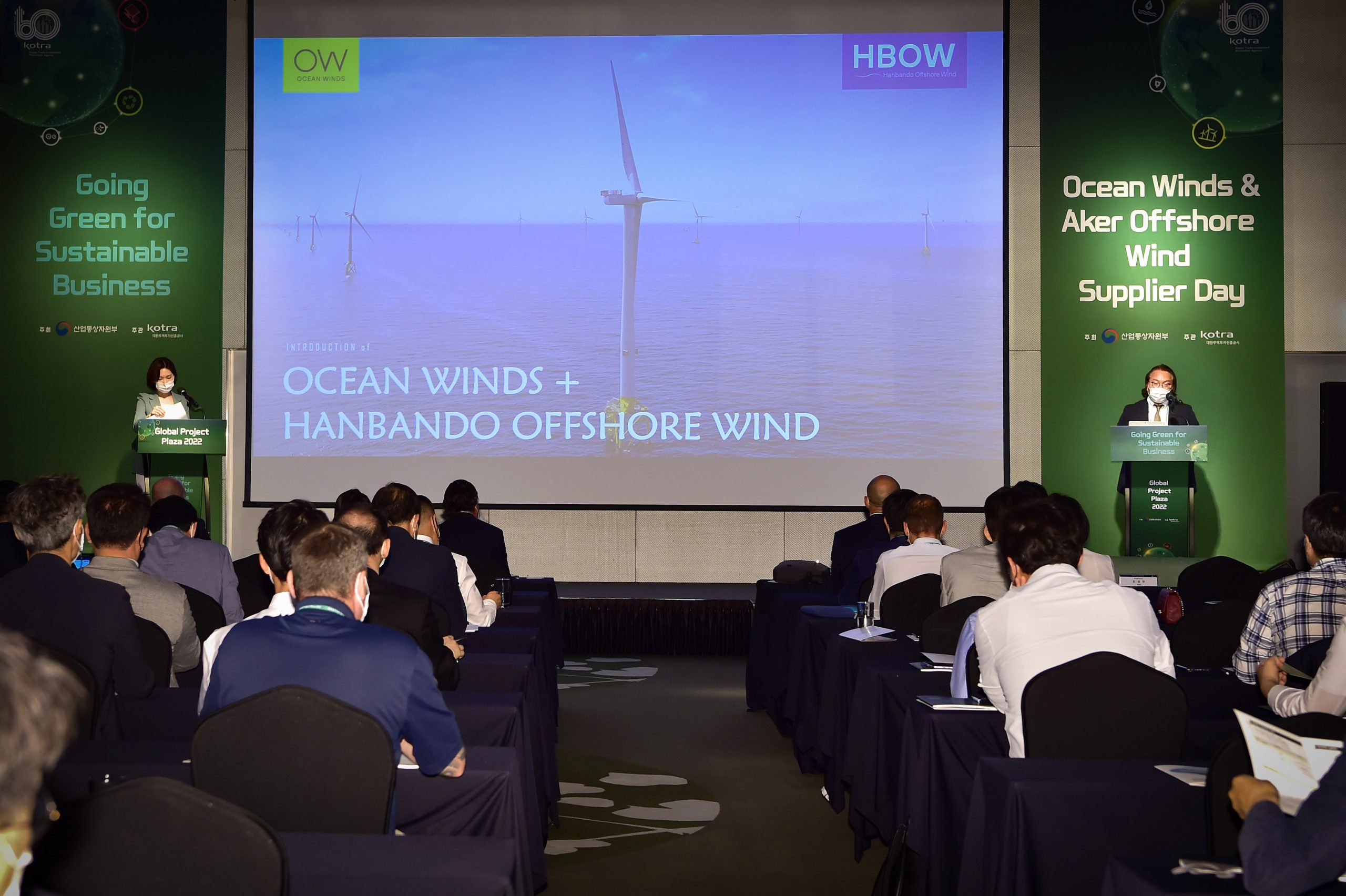 Besides, he said, "HANBANDO project is scheduled to be built with a total of 1.2GW in an aggregation of 4 projects, is about 70km away from the coast of Incheon. Currently, we are measuring and collecting the wind conditions. We are aiming for commercial operation in 2028, following the acquisition of EBL in 2023.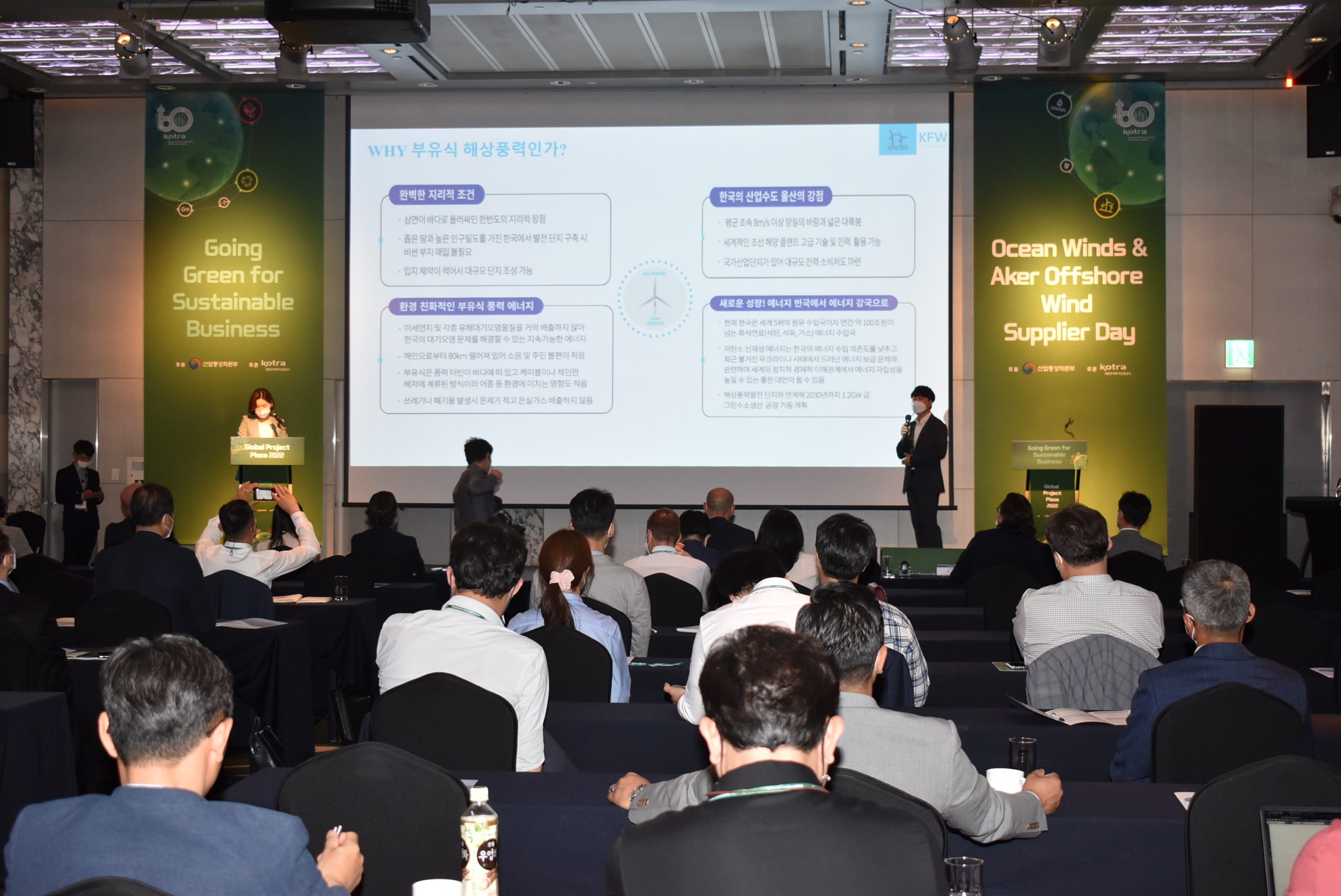 Expected to create more than 60,000 local jobs
Lim Jin-hyun, head of marine surveying and permission of Korea Floating Wind, explained the economic and environmental effects of Ulsan floating offshore wind power development, which was analyzed with the Ulsan National Institute of Science and Technology (UNIST) last year.
"The development of the Ulsan project is expected to bring significant economic benefits not only to the region but also to the national level. are expected to be created. Through the construction and operation stages, it is expected that 33,000 and 32,000 jobs respectively in Ulsan."
He continued, "With the construction cost, it is anticipated to exceed 7 trillion WON, Ulsan city is able to expect an increase in local tax revenue by more than 360 billion WON. The annual production of more than 4,000 GWh of clean energy is expected to reduce greenhouse gas emissions by about 3.18 million tons."
Korea Floating Wind plans to expand communication and cooperation with related industries such as construction, shipbuilding, ports, and steel, as well as wind turbine manufacturing, with this supplier day seminar as an opportunity. In the future, related supplier day events will also be held in Ulsan and Incheon.
In particular, it plans to actively nurture professional manpower through partnerships between European manufacturers, which are leading the global offshore wind power market and domestic companies.