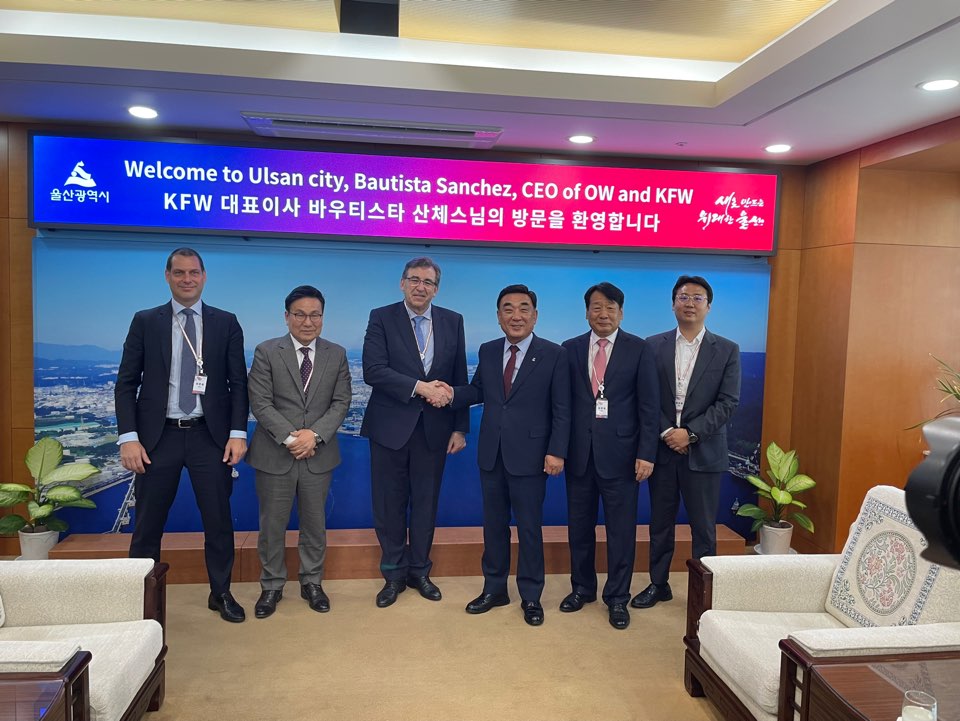 KF Wind, Discussions with Kim Du-gyeom, the Ulsan Mayor on collaborative measures to promote floating offshore wind in Ulsan.
Korea Floating Wind (KF Wind) had a meeting with Kim Du-gyeom, the Ulsan mayor and the related depts in the Ulsan city to introduce the KFWind project and collaboration strategies at the meeting room of Ulsan City Hall on May 23rd.
Bautista Rodríguez Sánchez, CEO of Ocean Winds, and CEO of KF Wind, Park Jang-Ho, Project Director of KF Wind, Guzman Figar, Country Manager of Ocean Winds Korea, and Lee Yoon-Cheol, Chairman of Ulsan Chamber of Commerce and Industry, attended this meeting. Bautista introduced the KF Wind, which is currently developing a floating offshore wind farm with a capacity of approximately 1.2 GW in Ulsan. They also discussed the economic contribution to Ulsan, the investment scale, and the recently launched Ulsan Floating Offshore Wind Association.
Furthermore, it was suggested that the Ulsan mayor and Ulsan city visit the WindFloat Atlantic floating offshore wind farm in Portugal, which has been in commercial operation since 2020 by Ocean Winds, the main shareholder of KF Wind to introduce its advanced floating offshore wind technology and to share contributions to the local community.