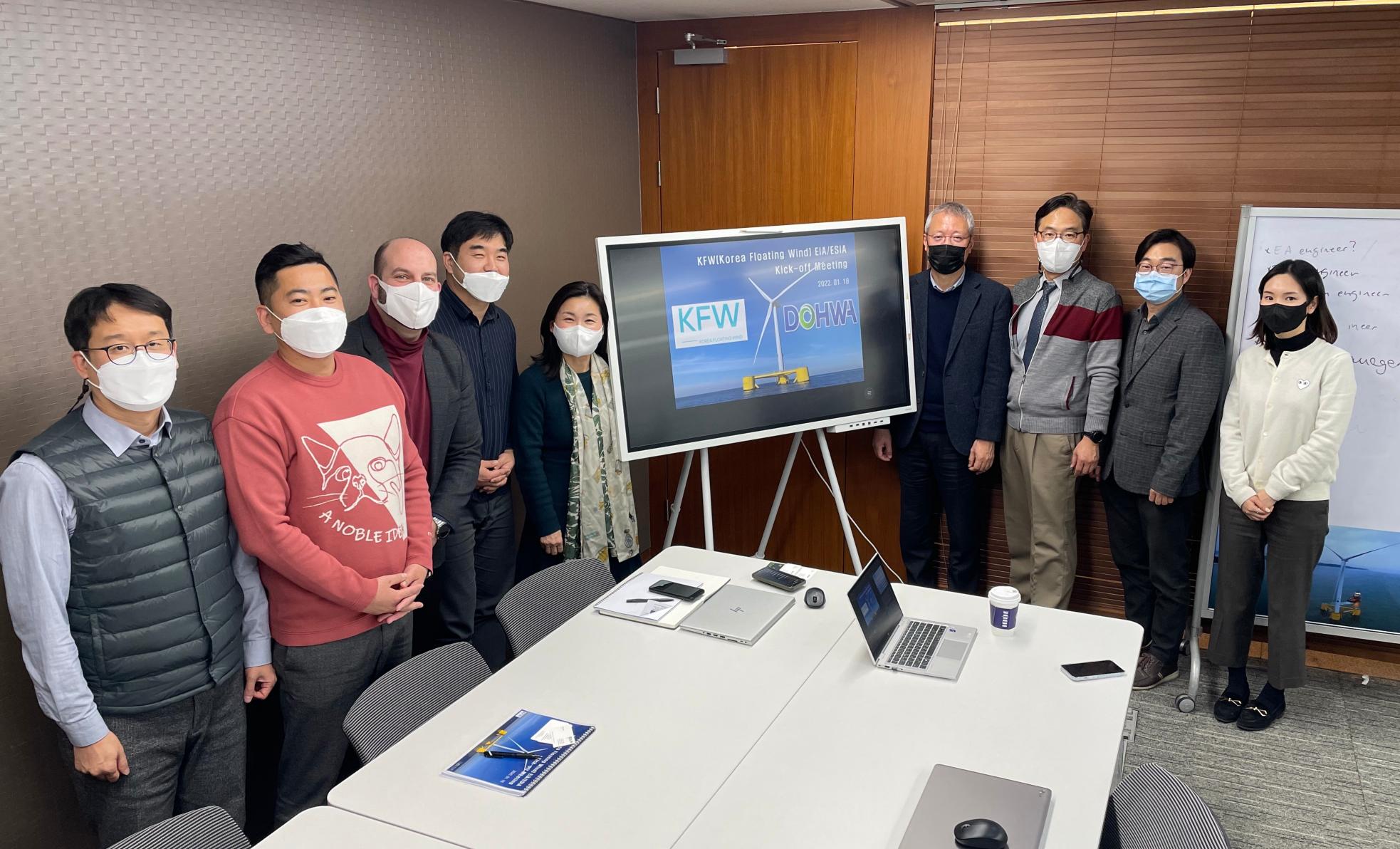 Korea Floating Wind Power Co., Ltd. (KFWind) has launched an Environmental Impact Assessment (EIA), an essential procedure for obtaining permission to develop a 1.2 GW floating offshore wind power project being promoted in Ulsan, along with Dohwa Engineering, a company specializing in environmental impact assessments. The kickoff meeting took place on January 18 at the KFW office in Seoul.
Recently, as the Ministry of Environment enacted the "Offshore Wind Energy Environmental Evaluation Consultation Guidelines," which is the basis for reviewing offshore wind environmental impacts. The marine environmental evaluation period is expected to be drastically reduced, which enables the environmental evaluation rapidly and reasonably.
KFWind is a joint venture between Ocean Winds, a global offshore wind energy company based in Europe, which is developing a 4GW project worldwide and Aker Offshore Winds, which has abundant offshore design technologies, internationally. Last year, Ocean Winds, along with KOTRA, held a $100 million investment MOU ceremony for Korea's renewable energy business.
Dohwa Engineering Co., Ltd., Korea's No. 1 construction engineering company, operates a DOHWA Offshore Wind farm Professional Working Group optimized for environmental impact assessment of offshore wind power generation projects, and has experiences with 25 offshore wind-related projects.
Guzman Figar, KFwind's Project Director, said, "We are glad to work with Dohwa Engineering, Korea's top-ranked multi-disciplinary engineering consulting firm rooted in Korea and with experience in evaluating wind power-related environmental impacts. He also said, "Ulsan's offshore wind project will be the world's largest floating offshore wind power and will contribute to providing many jobs to domestic companies as well as meeting Korea's 2030 National Greenhouse Gas Reduction Goals (NDC) and carbon-neutral.
Park Seung-woo, CEO of Dohwa Engineering Co., Ltd., said, "Based on the industry's best engineering technology, we are accumulating business experience to expand our market share in EPC and private investment business development by 2030. Through this opportunity, we are pleased to collaborate with KFWind, global leading renewable energy company."