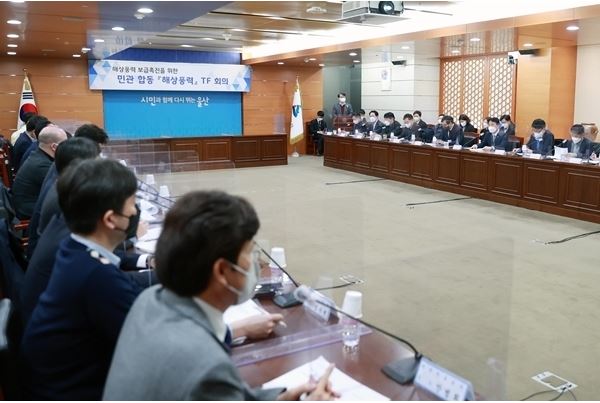 The Ministry of Trade, Industry and Energy (MoTiE) held a public-private Joint Offshore Wind Task Force Meeting, presided over by Vice Energy Minister Park Ki-young, to listen to the difficulties of each project of offshore wind power and discuss solutions on February 10th.
It was hosted at Ulsan City Hall, participating in related ministries such as Ulsan Mayor, Office for Government Policy Coordination, Ministry of Defense, Ministry of Environment, Ministry of Maritime Affairs and Fisheries. Besides, local governments, Korea Electric Power Corporation, Korea Energy Corporation, and Offshore Wind Power business developers including KF Wind, also attended to discuss the wind power projects in the southeast region and listen to local opinions.
The Ministry of Commerce, Industry and Energy announced the "improvement plan for the resident participation system" at the meeting table.
The resident participation system is a system that grants weighted values of renewable energy supply certificates (REC) to operators when more than a certain percentage of residents participate in solar or wind power projects and allows operators to allocate (share profits) weighted profits to residents.
This improvement plan is aimed at revitalizing resident participation and at the same time providing more benefits to residents and fishermen near the power plant. For example, △ subdivided the scope of resident participation in order to give priority to residents in the area closest to the power plant △ In particular, in the case of offshore wind power, the weight of resident participation REC is raised by 50% as the unit of input project cost is large △ It is a way of giving new qualifications so that residents near the substation can also participate in the project.
The Ministry of Trade, Industry and Energy will finalize and announce the improved resident participation system within March after collecting additional opinions from industry and experts by the end of this month.
Meanwhile, offshore wind power business developers in the southeast region mainly suggested the government and local governments' interest and support in △ timely access to common grid △ improvement of resident acceptability △ expedited licensing and permits.
Ulsan Maeil Newspaper and Ministry of Trade, Industry and Energy Press Release