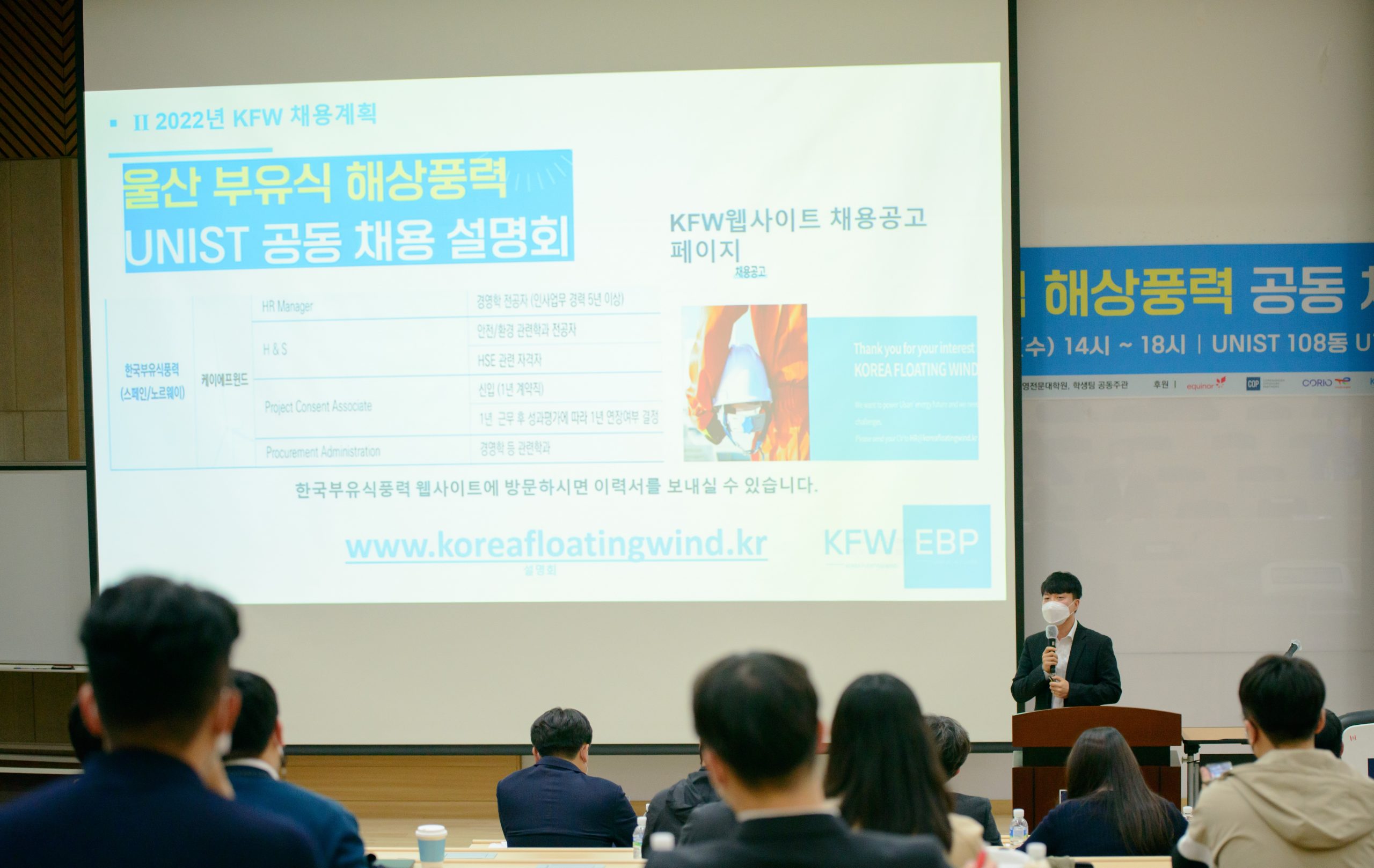 Korea Floating Wind Power (KFWind), which is promoting for a 1.2 GW floating offshore wind power project in Ulsan, is hiring young talent at the Ulsan National Institute of Science and Technology (UNIST)
On the 13th, UNIST held an event called "Ulsan Floating Wind Power Joint Recruitment fair and Field Interview" jointly with other floating offshore wind power developers in Ulsan.
Song Chul-ho, Ulsan City Mayor and Lee Jae-yong, UNIST Vice President participated at this event and five developers in Ulsan shared the vision of the project and future recruitment plans.
"We hope to secure excellent talent in the offshore wind power field through the UNIST's joint recruitment fair and continue to share recruitment plans in the future to contribute to the local industrialization of offshore wind power and creation of high-quality youth jobs," said Lim Jin-hyun, Head of Marine Surveying and Permission at KF Wind.
Through this joint recruitment fair, KF Wind plans to actively find key talent for open job positions as HR Manager, H&S, Project Consent Associate, and Procurement Administrationsafety for full-scale offshore wind power projects in the future and continue to expand the number of employees.
Meanwhile, KF Wind has researched the Socio-Economic impacts of its 1.2GW floating offshore wind power project in Ulsan since 2021 along with UNIST and ERM, international environmental research firm.
According to this report, during the project period, a total of 88,000 (66,000 in Ulsan region) jobs are expected to be created in the construction and operation fields, and a total of 7.1 trillion won (5.3 trillion won in Ulsan region) will be invested in related industries including construction costs. It is predicted that the economic ripple effect will be very large at the national level, centering on the region.
Source: Today Energy