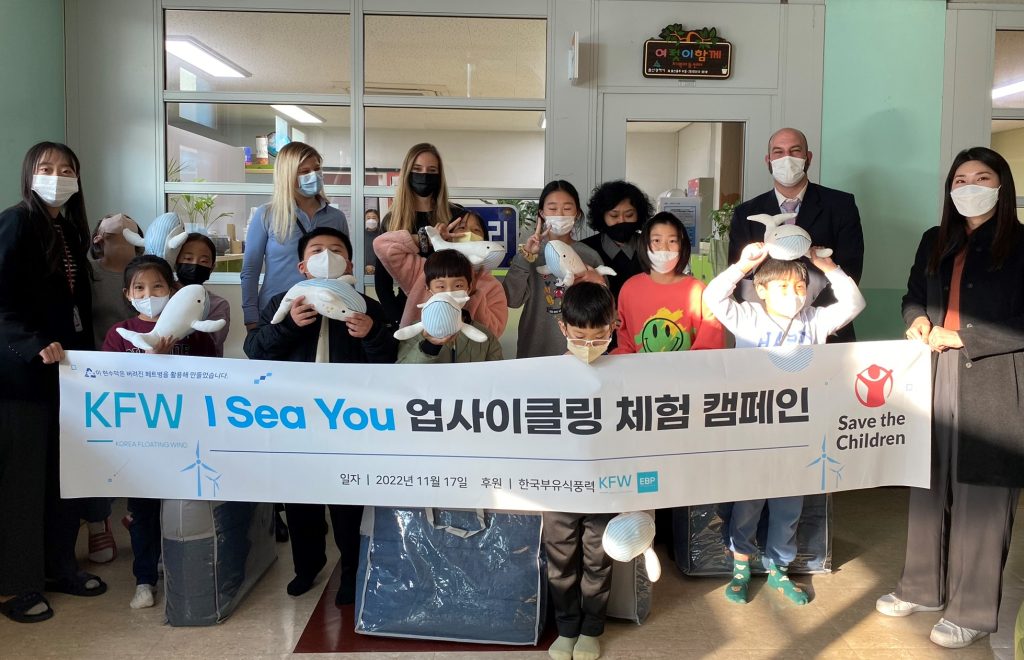 Korea Floating Wind hold the second edition of ESG activity 'I Sea You Upcycling Campaign'
Korea Floating Wind (KFWind) held its second edition of the "I Sea You Upcycling Campaign" with Save the Children Ulsan branch, the international children's rights NGO at a community child center in Ulsan on the 17th of November, 2022.
It is an eco-friendly social contribution campaign sponsored by KFWind together with UlsanKfem, the environmental NGO in Ulsan, aims at raising awareness among children on the importance of sea environment, biodiversity and how to protect it at the eye level of children.
The hands-on activity allows children to make their own whale dolls made of recycled plastic bottles from Usisan, the social enterprise in Ulsan, and this campaign is performed for the second time, starting with Bangeojin elementary school last year.
Korea Floating Wind also announced that it will hold a donation ceremony and provide eco-friendly blankets to Save the Children Ulsan branch so that children from energy-vulnerable classes including local community centers, shelters and low-income families in Ulsan can spend the winter warmly. After the hands-on class, recycled beddings were provided to the children who participated in the class on 17th November 2022.
Jean Philippe Baudrey, Head of Business Development at KFWind, who participated in the I Sea You Upcycling Campaign, said, "It was very surprising and rewarding to see the children's active participation in the class and their high level of awareness of the environment. We will continue to support upcycling campaigns to spread the importance of a sustainable and healthy marine environment, and we will work with Ulsan local communities and local governments to devise long-term measures to preserve the Ulsan marine environment. Korea Floating Wind will continue to strive for the company's ESG management practice and contribution to the local community while communicating closely with Ulsan citizens."
Korea Floating Wind is a joint venture established by two leading offshore wind developers, Ocean Winds and Mainstream Renewable Power. It is currently developing a floating offshore wind project off the coast of Ulsan and is expanding its contribution to the local community through ESG management practices such as cleaning up Ulsan beaches and providing cold-weather products to children from energy-poor families this year.