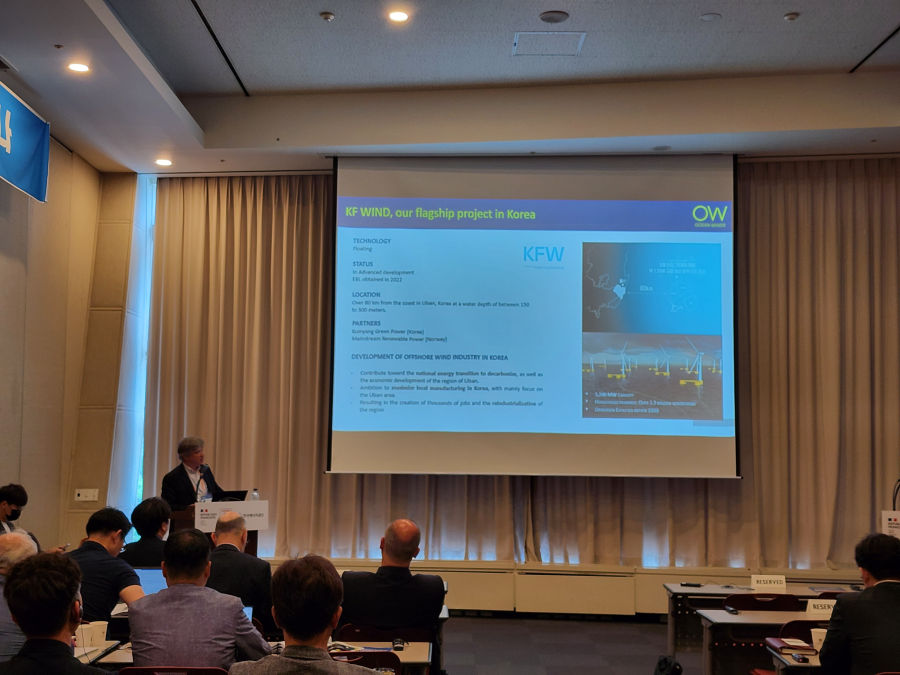 Korea Floating Wind emphasizes coexistence in offshore wind and the role of the government at the 2023 World Climate Industry Expo.
Filip Meuleman, Technical Director of Korea Floating Wind (KF Wind) delivered a speech at the France-Korea Seminar with the subject of "Offshore Wind Power Social Acceptance: Initiatives and Challenges" as a part of the program in the 2023 World Climate Industry Expo(WCE) held in BEXCO, Busan on the 26th of May 2023.
The seminar was jointly held by the French Environment and Energy Management Agency(ADEME) and the Korea Energy Agency(KEA), counting with the presence of Phillipe Lefort, the French Ambassador to the Republic of Korea, and offshore wind government officials and experts from the renewable energy industry.
In a speech focusing on Ocean Winds' international expertise in consenting and stakeholders engagement, Filip Meuleman introduced the floating offshore wind project in Ulsan with a 1.2 GW capacity target, promoted by KF Wind. He said, "Korea Floating Wind will make sure that various opinions can be reflected through close communication with stakeholders from the beginning of the project," adding, "We will do our best to utilize various methods to coexist and grow with residents."
He also stressed the need for the Korean government to play a vital role in realizing global carbon reduction targets and enabling energy transition to renewable energy as a stepping stone for the growth of the offshore wind industry.
Meanwhile, Filip Meuleman thanked the French Environmental Energy Agency, the Korea Energy Agency, and the French Embassy in Korea for providing an opportunity to share the experiences of the global offshore wind project globally and regional acceptability, developed by the majority shareholder of KF Wind: Ocean Winds.